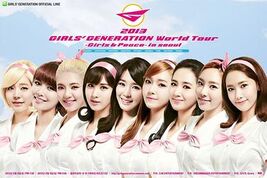 Girls and Peace World Tour was the third Asia Tour (fifth overall) of South Korean girl group, Girl's Generation. Although it was called "world tour", they only performed across six countries in East Asia and Southeast Asia.
Background
The tour was officially announced in April 2013, 2 days after their 2nd Japan Tour: Girls and Peace with two dates at South Korea and plans for future dates across the globe.
At the tour press conference on June 8, it was announced the group would be heading to the United States and South America following the group's concert in Taipei in July. However, this never came to reality.
This concert tour made Girl's Generation have their first solo concert at Indonesia and Macau.
Set List
Main Set
Act 1
"Hoot"
"Animal"
"Talk Talk"
"The Boys"
"I Got a Boy"
"Say Yes"
"Dancing Queen"
Act 2
"Mr. Taxi" (Korean version)
"T.O.P."
"Flower Power"
Act 3
"Paparazzi"
"Run Devil Run"
"Reflection"
Act 4
"Promise"
"Baby Baby" (Ballad version)
Act 5
"I'm A Diamond"
"Express 999"
"Tell Me Your Wish (Genie)"
"The Great Escape" (Brian Lee remix) / Can't Take My Eyes Off You"
Act 6
"My J"
"Kissing You" / "Way to Go"
"Gee"
"Forever"
Encore
"Into The New World"
"Love & Girls"
"Oh!"
"How Great Is Your Love"
"Twinkle" (All members version)
Double Encore (Limited Concert Only)1
"Gee"
Notes:
Double Encore was only performed at the second day of the Seoul Concert.
Encore Show at South Korea and Taiwan was different from Indonesia, Singapore, Hongkong, Thailand, and Macau consisting of; "Into the New World", "Oh!", and "Twinkle" (All members version)
TASTY performed "Spectacular"/"MAMAMA", "Day and Night", "You Know Me" as the opening act at Hongkong and Macau.
Tour Dates
Date
City
Country
Venue
June 8, 2013
Seoul
South Korea
Olympic Gymnastics Arena
June 9, 2013
July 20, 2013
Taipei
Taiwan
Taipei Arena
July 21, 2013
September 14, 2013
Jakarta
Indonesia
Mata Elang Interntaional Staduim
October 12, 2013
Kallang
Singapore
Singapore Indoor Staduim
November 9, 2013
Islands District
Hong Kong
Asia World Arena
November 10, 2013
January 11, 2014
Bangkok
Thaliand
Impact Arena
February 15, 2014
Macau
Macau
Cotai Arena
Media
Indonesiar Network aired the Indonesia Concert on television, September 22, 2013.
S.M. Entertainment released a DVD of Seoul concert, 'Girls' Generation - World Tour: Girls & Peace in Seoul' on March 30, 2015.
Ad blocker interference detected!
Wikia is a free-to-use site that makes money from advertising. We have a modified experience for viewers using ad blockers

Wikia is not accessible if you've made further modifications. Remove the custom ad blocker rule(s) and the page will load as expected.